Storage services
We provide you storage of various goods or materials in our own store house with permanent service
We can arrange for you all the operative storage administration: an acceptance and a release of your goods, monthly inventories, monitoring services. Letting Makrofakt take care of your storage operations allows you to fully concentrate to your core business.
Access areas without contrains
Our warehouse entries are ready for every vehicles (from bicycles to trucks). The warehouses are equiped by pallet-trucks and fork-lift trucks for an easy manipulation of stored material and goods.
We have a storage area of 1500 m2, in the case of fullness we are able to provide more.
Optimal storage conditions
We adhere to generally applicable conditions for storage. We respect requests of our clients and their needs. Your goods will be fully taken care of at our warehouses.
All the operative work is done by our profesionally trained employees. We will inform you about every move of your goods (or we will agree on ideal communication). Indeed we have own storage agenda which we are able to adapt flexibly to the needs of our clients, including the data outputs.
Our warehouses have an ideal location. They are situated in Vlašim, in the centre of Bohemia. As you can see on the map below, it is nearby the highway D1, exit 49.
Packaging and distribution preparations
We can offer you a seamless continuity with packinging services, repackaging into smaller units or vice versa, sorting, packaging foils and shrik-wrep packaging.
We can also repare your goods for the distribution with our transport capacites.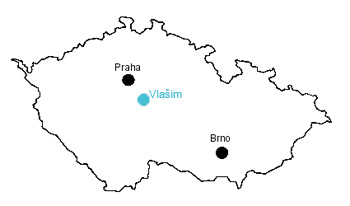 Warehouse address
Univerzální zasilatelství a.s.
Lidická 667 (areál Sellier & Bellot)
258 01 Vlašim
GPS:
49.6967850N, 14.9063742E
Are you interested in this offer?
Why to cooperate with us?
Carefulness
Individual approach
Longstanding experience
Flexibility
Low prices
References